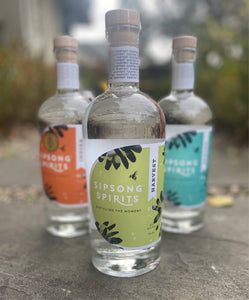 This Harvest is a hopped gin, it's our second batch ever and it was distilled in September 2022.
We used freshly picked, wet hops, from Alexander Valley Hops. These fresh cashmere and comet hops were hand harvested from the farm and distilled fresh. The intoxicating and enticing nose of these hops wafts fruity, juicy, melon and apricot, fresh green and earthy at the same time. The accompanying botanicals are Orange, Coriander, Lemongrass and Orris root but really this is all about the fresh hops.
This gin is a limited release so get it while you can. We have a 3 bottle limit. To be sure you never miss a release join our secret sipping society, see this page to learn how to join. Thank you!